AC Leadership from Left to Right – Kevin Oaks (VP of Finance), Tyler Smith (Co-CEO), and Joe Harsany (Co-CEO)
One hundred units were to slated to be shipped and installed at designated Petco retail stores across the country in under 6 months. AC moved quickly to refine the prototype design and source the materials that would be required to enable production and replication within an ambitious development timeframe.
As the build phase approached, AC's Technician Manager, Blake Walker, was approached to help staff the project. Because the roster of full-time AC technicians was already committed to other projects, Blake and Hilary Bennett, AC's VP of HR & Culture, started searching for part-time technicians. Hilary turned to one of AC's student-interns, Caleb Tayler, to reach out to other college students at OSU about summer internships at Andrews Cooper in Corvallis. Hilary describes the opportunity:
"AC has a strong relationship with OSU – it's the alma mater of many of our engineers and professionals at our Corvallis facility. We've done several outreaches for technical and engineering talent through Open Houses and Career Fairs. For this project, we needed technicians who could adapt rapidly to the mechanical engineering and assembly requirements."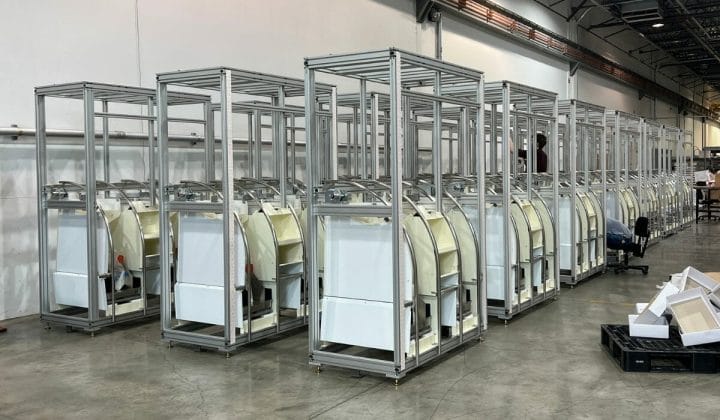 "I've interned with AC for the last couple years as a technician. I heard about how fast the project was moving, and I wanted to help. So when Hilary asked me if I knew others who might want to intern for the project, I posted a listing in a couple informal student chat channels. We got several immediate responses."
As applicants started to connect with HR, the labor resources for the project started to take shape. Blake recalls:
"We had been searching for a few weeks and we ended up with more applicants than the project would need. So we met with the applicants and narrowed down the pool to six student-interns."
As you can imagine, the interns enjoyed a warm welcome from a busy and bustling project team. The next step was to dive into training to take them from learning, coordinating, and task assignment to mechanical assembly and replication of all 100 merchandising units.

Each assembled unit included dual food hopper assemblies and dispensers inside the frame; dual calibrated product scale systems with displays, keyboards, and printers; mechanical devices to winch, raise, and spread heavy bulk food bags hooked onto a cable system; and an aluminum frame housing with consumer-facing side panels and food bag trays.

Noah Alley, AC's lead Technician on the project, had the responsibility to mentor and coordinate the team. He recalls:
"We developed an efficient handoff process to accommodate the intern's schedules. What amazed me though is how quickly they worked together effectively. They followed our instructions really well and also took the initiative to keep things moving."
Fast forward from the start of their internship in April out to July when the project wrapped, the interns had participated in an immersive and fast-paced assembly project. The last of the 100 Canidae Kibble Refill Stations shipped out by the end of July. What an achievement for the whole project team!

One of the applicants was Anice Teel, an OSU mechanical engineering student and recent graduate. We asked about her intern experience:
"I got to see how a product is developed from the concept to the completed design. I learned practical application skills and ways to think about engineering solutions as I move forward into my career. I can always apply what I learned here as an intern, from how to select fasteners and tools up to how the decisions of project are completed. I also saw that even though there were slowdowns when materials were delayed, we could be flexible, reprioritize, and keep the project moving. It's kind of surprising, but we got it all done – we overcame a lot of challenges. In school, we learn a lot of theory, but not necessarily how to apply it to a working project. I also really like the sustainable purpose behind the Canidae Kibble Refill Station. It was a great experience."
After the Canidae project was completed, AC ended up hiring Anice Teel as a full-time Associate ME.
Blake Walker, AC's Technician Manager, commented on how Anice and the other interns succeeded:
"During the project we had great feedback about every one of the interns, but Anice stood out. When she came here to see the project, she was genuinely interested in the work we do. She also had a good resume, was very personable, and uniquely had blacksmithing experience. That suggested she would do well with the mechanical aptitude we wanted. At the end of the project, she was close to graduating and our project and department leaders thought she was a great fit at AC. It's a happy ending all around."
Anice's current manager, Chris Lang, AC's Manager of Mechanical Engineering, adds:
"She did a great job picking up the ins and outs of that technician role bringing a positive outlook to everything. One of the most consistent points of feedback I received after our interview process was her positive attitude and how she interacted with everyone. Being a culture fit is huge at AC and she definitely is!"
We asked Anice how she feels about AC and what culture might mean from her perspective. She wowed us with her response:
"As a woman in engineering there have been many times where I felt like my ideas were not taken seriously throughout my schooling by some of my peers and past employers. This has not been the case at AC. I have felt extremely welcomed and heard here. It is apparent that the employees of AC want everyone to have the chance to succeed. This allows AC to have leverage above other companies focused in the STEM fields. We accept diverse people which allow for different ways of thinking you may not see at other companies. Even throughout my work as a temporary technician, I felt like I was able to help make decisions for the project that were implemented in the final design. This made me care so much more about my work and I feel that it allows for employees to have a greater sense of pride in their work which in turn, outputs higher quality final products."
AC celebrates everyone who worked on the Canidae project, from the top down. We also congratulate Anice Teel in her new role as Associate ME, and all of our student-interns in the "Rescue Crew of 2022" for their amazing work on the Canidae Kibble Refill Station.
AC Engineering & Community
We've had such a positive experience hiring engineers out of school and have uniquely benefitted from our relationship with Oregon State University. AC OSU alumni include Co-Founder Neal Andrews, Co-CEOs Joe Harsany and Tyler Smith, and many other talented employees across our organization.

Internships are great opportunity for AC and our community. We get to connect with young engineers and convey not only a practical work experience but also our values.

Caleb Taylor, a current intern and Technician II at AC, is preparing to finish his studies in mechanical engineering and hopes to graduate in the coming spring term. He reflects on why he enjoys internship at AC:
"I have worked at other engineering companies, but AC is a better experience. My manager, Blake, and AC are very flexible with my class schedule. AC also has interesting projects – the variety is one of the biggest things I enjoy. It's super beneficial to get practical experience, but I also really like that AC is interested in jobs that mean something. I want to work on projects that help humanity, especially in the medical field. Viant Medical was actually one of the first projects I worked on when I started at AC. I was even able to travel to the UK in support of the team."
AC Technician – Caleb Taylor
When asked about what kind of engineering or technical college student fits the culture at AC. Caleb paused and suggested:
"Well, look at the two who founded the company. People like Neal and Steve who are smart and driven, but very humble, with good morals and leadership."
AC Diversity & Young Engineers
Co-CEO, Tyler Smith, commented on the future of AC internships and connections with young engineers:
"OSU will always be a part of AC and is in our DNA here. We have deep roots there and in our local community – OSU holds a special place in our hearts. We are also reaching into other universities and finding students across the country to find young engineers from diverse backgrounds with unique skill sets. There is a wide range of engineering and technical talent to tap into and we are increasing our outreach through events like the regional NSBE career fair and others where our values align well. I am excited about the future and grateful for the examples that our founders, Neal and Steve, set for myself and co-CEO Joe Harsany. We continue to learn from them as we look ahead and reach out into the community."
Create Your Purpose at Andrews Cooper