We know you love an inspiring success story as much as we do, so we'd like to share some engineering insights on the foodtech product development journey of Cirkul – the brainchild of co-founders Garrett Waggoner and Andy Gay.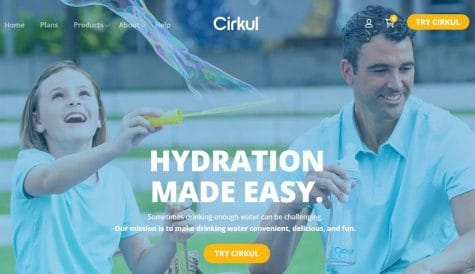 FoodTech Product Innovation Always Starts with an Exciting Idea.
About a decade ago, during their college years at Dartmouth University, Garret and Andy had an exciting idea… and a problem.
Their idea was to deliver flavored water, using no-mess cartridges that screw into a reusable water bottle.
Their problem was that neither of them had experience in product design or development.
But because they believed in their idea, they persevered, eventually turning their efforts into Cirkul – currently a $1 billion company and a rising star in the FoodTech beverage market.
Successful FoodTech Product Development Requires the Right Partner: A Conversation with Dan Faulkner
The average Cirkul customer would probably be astonished at the quantity of work that goes into creating a great foodtech product. One of the keys to any successful product design is finding the right engineering partner.
So, we asked AC Principal Mechanical Engineer, Dan Faulkner, to describe AC's Product Development partnership supporting Cirkul and their innovative adjustable flavor cartridge.
"The best partnerships, like this one with Cirkul and Motiv, are built on mutual respect, trust, and a willingness to compromise."
How did AC get involved with Cirkul?
The collaboration between Cirkul and Andrews Cooper was initiated by the Boston design firm Motiv who had begun developing design concepts and early prototypes, but soon realized that the project needed some in-depth engineering work.
Motiv recommended Andrews Cooper based on several previously successful collaborations. They knew that AC would provide high-quality engineers with the skills to turn a rough idea into a finely tuned mass market product.
What makes AC the right engineering partner for startups?
One of the most significant things that AC offers is flexibility. Every client has different needs, experience, and expectations.
Our engineers are trained to look at projects holistically – to give our customers not just what they ask for, but what they need.
This is especially valuable with startups, where our seasoned engineers can provide product development insights that can only be gained through years of experience.
So, we started the engineering work by making sure we were aligned with Cirkul on their product requirements, schedule, and budget.
What was the design intent for the adjustable flavor cartridge?
Cirkul and Motiv's proof-of-concept prototype became AC's "first draft" design – roughly functional, but ripe for improvement and optimization.

The basic concept was simple: there is a small reservoir of concentrated liquid flavoring just underneath the spout of the water bottle. As the customer sips water, the suction also pulls a tiny bit of the concentrate, flavoring the water just before it goes into their mouth. What a great idea! But as always, simple concepts often require complex solutions.
Adding to the complexity was one of Cirkul's must-have requirements: adjustability. Customers must be able to quickly set their preferred flavor concentration (strong, medium, weak, zero) by simply turning a ring on the screw-in cartridge.
What design challenges did AC discover with the original prototype?
The original design was a hollow cylinder, with the sipped water running up through the middle, surrounded by an annular reservoir of concentrate. The wall between the two liquids was perforated with an array of small holes. By turning the flavor adjusting ring, some of these holes were blocked, reducing the amount of concentrate added to the water – or at least that was the plan.
Because flavor is subjective and cannot be measured directly, AC developed test protocols to measure ionic concentration using a conductivity meter. The initial results were not encouraging. Concentrations were highly variable from sip-to-sip, prototype-to-prototype, and even day-to-day.

We also had difficulty getting the parts to seal. Standard o-rings require tight tolerances on the mating parts, something that is difficult to achieve in high volume injection-molded parts. The rotating flavor adjuster required dynamic (moving) seals, but we found that the friction of these seals made the product hard to use.

Finally, there was the issue of sterility. The cartridges need to remain fresh on a shelf for weeks or months, while still being easy to open and use.

It became clear to us that the initial design concept wasn't ideal. We were only able to make incremental improvements when what we needed was a major leap forward.

This is where our flexibility and our holistic view of the project paid off. We found ways to adjust our staffing plan while staying within the original budget. This allowed us to add another engineer on the team, for a fresh perspective.
What design solutions did AC develop for the new foodtech prototype?
After much thinking and brainstorming, we settled on a new design that turned the whole mechanism inside-out: the flavor reservoir was now in the center, and the water flowed in the space around it. This allowed us to make a major change to the adjusting mechanism.
Instead of an array of holes with a rotating cover, we could now design something that looked and acted more like a traditional needle valve.

The redesigned prototype provided several solutions and immediate performance or manufacturing benefits:
| Solutions | Performance or manufacturing benefits |
| --- | --- |
| Simplify geometry of the flavor adjuster | Enable fluid dynamics calculations to predict performance |
| Taper the cone of the needle valve | Enable a large turn-down ratio for more accurate and repeatable performance (i.e. a large rotation of the adjuster only causes a tiny change in the gap size) |
| Use simple injection-molded lip seals | Achieve sealing with moldable parts by using a closure similar to common beverage bottles |
| Reduce total part count in the assembly | Maximize efficiency of budget and stay within the project's cost goals |
| Centralize the flavor concentrate location | Utilize industry-standard food packaging methods for the flavor concentrate |
| Use a sealed, sterile, and flexible pouch for the flavor concentrate | Leverage existing FoodTech heat-sealing technology to maintain sterility of the flavor concentrate and enable manufacturability with existing machines and processes by using a thin sterile seal over the fill opening, puncturable at first use by a sharp point added to the flavor adjusting mechanism |
| Use industry-standard pouch spout, with custom interface | Enable the pouch to snap directly into the flavor adjuster |
What was the result of the redesigned prototype?
Our new product architecture looked promising in CAD models, but the real excitement came when we tested the first 3D-printed prototypes.
The flavor adjuster worked exactly as we hoped: concentrations varied smoothly as the adjuster was moved between zero and full, and the results were much more consistent in repeated tests.
Further testing proved that the positive flow of our design was also working. A complicating but critical factor was the need for two check valves: one to prevent flavored water from flowing backwards into the bottle, and one to admit air into the bottle as the water is sucked out.
Both of these valves added pressure drops that needed to be accounted for in the system design.

Early tests showed that there was a delicate balance: softer check valves made for easy sipping, but the concentration control suffered; stiffer valves achieved good flavoring but required too much suction.

To help find the optimal design, we created a fluidic resistance data model that accounted for the flows and pressure drops in each portion of the system. With this model we were able to make predictions of the overall system performance and quickly estimate the effects of various design changes.

After several iterations of modeling and testing, we determined the preferred pressure and flow characteristics for the two valves, and partnered with a specialized manufacturer to develop rubber parts that met those specifications.
Although first prototypes are never perfect all the way around, testing confirmed that we had made a major step forward that could be refined into a viable product.
How did AC enable successful design for manufacturing?
Once the redesigned prototype was working, we were able to begin solving all the details that are part of design for manufacturing (DFM), including:
> Reviewing the parts with Cirkul's manufacturing partners and refining the designs to meet their needs.
> Building, testing, and qualifying injection molds and blow molds.
> Developing and launching quality control plans with related testing and refining of prototypes.
> Collaborating extensively to ensure alignment and success between AC, Cirkul, the supplier for the flexible concentrate packaging, and the company that would fill and seal the pouches.
How does AC enable the manufacturing of millions of "identical" parts?
When designing something that is going to be built millions of times per year, it is tempting to think that there's no room for error, but in fact the opposite is true.

It is impossible to manufacture ten perfectly identical parts, much less a thousand or a million. Our experienced engineers know that the real parts will never look exactly like the CAD.

For the Cirkul project, we considered the real-world outcomes at each stage of prototyping and DFM, asking questions like:
> What could go wrong?
> How will the dimensions of these parts vary?
> How will the flavor pouches behave in the filling machines?
> How will things change when the finished product is on a truck, in an airplane, or sitting in a warehouse?
How did AC's partnership with Motiv and Cirkul impact the success of the design?
It's important to realize that great engineering does not guarantee a successful product.

We felt great that our work on the prototype enabled the interior of the Cirkul cartridge to work, but for the exterior design specifications we relied on our complementary partners at Motiv.

Together, after a few iterations, we settled on a design that checked all the boxes:
> Attractive
> Usable
> Functional
> Manufacturable
The best partnerships, like this one with Cirkul and Motiv, are built on mutual respect, trust, and a willingness to compromise. We continue to enjoy a collaborative partnership with Motiv to this day.
What happened to Cirkul after their foodtech product development journey?
For co-founders, Garrett and Andy, the minutiae of engineering and manufacturing were probably far from their minds when they first conceived of the Cirkul product.

But, as is typical of most successful startups, Cirkul gained a wealth of experience and insight by partnering with experienced developers like AC and Motiv.
Through AC's innovative work, Cirkul was able to deploy their product into the market and secure two U.S. patents. They rapidly developed from a two-man company into a successful and sophisticated business with their own in-house engineering team.
We celebrate Cirkul's innovative successes in the FoodTech sector, and we look forward to watching them continue to flourish and delight customers around the world.
How Can AC Help Develop Your Concept to Reality?
Regardless of where you are in your product lifecycle, improve your speed to market with AC's engineering teams in Research & Development, Product Development, Hardware Testing, and Manufacturing Automation.

Andrews Cooper is an engineering services firm specializing in highly complex technology development within ambiguous environments.

Are you an ambitious, tech-focused company looking to innovate your industry and change the world?