AC Leadership from Left to Right – Kevin Oaks (VP of Finance), Tyler Smith (Co-CEO), and Joe Harsany (Co-CEO)
Motiv Partners with Andrews Cooper to Create First-of-its-Kind Planet-Friendly Kibble Refill Station for Canidae
Collaboration Provides Sustainable and Cost-Savings Solution for Pet Parents
November 14, 2022 – BOSTON – Motiv, an integrated creative studio specializing in branding, packaging and product development, collaborated with engineering services firm, Andrews Cooper, to create an eco-friendly Kibble Refill Station for Canidae, the high-quality pet food brand, to help curb reliance on single-use plastics and encourage sustainable business practices for the pet food category.

South Boston-based, Motiv turned to Andrews Cooper, an engineering services company in the Pacific Northwest, to engineer and manufacture the solution they conceptualized and designed for Canidae's Kibble Refill Station. Andrews Cooper's initial challenge was to complete a feasibility study to define the technical requirements, scope, and development path. Canidae's cost-effective merchandising system would need to be safe and easy to use by non-technical consumer operators in a retail environment. Working from overarching objectives and Motiv's industrial concept design, AC engineered the technical solution.

"When we were offered the challenge to create an eco-friendly pet food packaging and delivery approach for Canidae, we reached out to our long-time partner, Andrews Cooper to collaborate on the engineering, development and production of the Kibble Refill Station due to their manufacturing automation team's specific capabilities," said Paul Metaxatos, Founding Partner at Motiv. "Andrews Cooper's engineering team has successfully complemented our creative and technical services teams on multiple projects in the past. We continue to leverage this great partnership, showcasing once again how our two firms can work in tandem to deliver smart impactful and effective solutions for complex multi-disciplinary projects."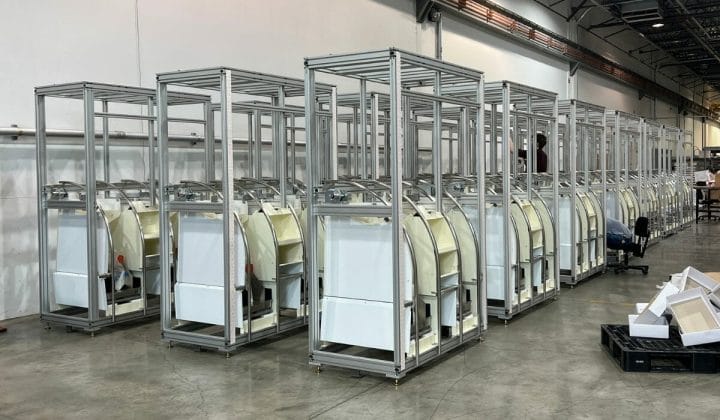 Moving quickly from feasibility, to building and testing phases, AC integrated seamlessly with Motiv and Canidae. Once AC successfully delivered the first five prototypes to select Petco retail stores, Canidae's focus shifted quickly from evaluating to scaling and deploying across the country. Given the success of the prototypes, Canidae asked AC and Motiv to complete the first release of 100 units in less than 6 months to enable quick delivery into the market.

"Motiv's creative vision, our strong product development partnership, and this Canidae project is a great example of the many ways we enjoy working together. It was a powerful combination." said Tyler Smith, Andrews Cooper, co-CEO. "Canidae's sustainable pet food dispensing solution for the retail pet food market aligned well with our FoodTech concept-to-market development experience."

With consumers continuing to seek new, easy ways to reduce their impact on the environment, the Kibble Refill Station created by Motiv and Andrews Cooper offers a convenient solution for them as well as retailers. It allows pet parents to fill as much dog food as they need into a food-safe reusable bag with handy straps and zipper for easier carrying. Over one hundred of these unique Kibble Refill Stations are currently being rolled out at Petco stores nationwide.
About Motiv:
Motiv is an integrated creative studio specializing in branding, packaging and product development. Motiv designs products, develops brands and delivers creative solutions for companies of all sizes, across a broad range of industries. Motiv works at the intersection of brand and design to help clients create products and experiences that connect with people, evoke emotion, influence decisions and drive business outcomes.

About Andrews Cooper:
Andrews Cooper is an engineering services firm in the Pacific Northwest specializing in highly complex technology development within ambiguous environments. We collaborate with our clients to improve speed to market with AC's engineering teams in Research & Development, Product Development, Hardware Testing, and Manufacturing Automation.