Valve Index VR System Development – 2017/2018
Fast forward to 2017. Once Valve determined to develop their own VR system – the Valve Index – they went all-in. While they were developing VR games, their VR technology would need to deliver a premium UX that could outperform best in class VR headsets, like Oculus.
By the spring of 2019, Valve had confirmed the impending release of the Index with RoadtoVR, ending the industry's speculation that a Valve VR product was in development.
From the beginning, Valve had already developed the optics for the VR head-mounted display (HMD) and had partnered with HTC to deliver the Vive SteamVR system, so their teams and hardware development kit were ready to go. But they wanted to find an engineering partner who could take ownership of the product development process, from proof of concept (PoC) through to manufacturing.
(Image Source: Valve 2019)
It was time for AC to spin up our product development team to win the project. On the heels of our IET engagements with Valve, we already had a great partnership and were excited to integrate with their ME, UX, and ID teams to innovate the Index VR and achieve some competitive advantages.
AC's Mechanical Engineering Manager, Ben Temple, describes how our relationship with Valve led to such a diversity of projects:
"Our first commitment is always to do right by the client. AC is really flexible. We're able to navigate complex challenges, whether in engineering, relationships, ensuring buy-in, etc. We have a proven product development process and experience succeeding on large scale, but also sensitivity to what needs to be done for the client. I think that's the kind of relationship industry leading clients, like Valve, came to expect from us – and what set us apart."
VR Design & Development for Competitive Advantage
To design and deliver a premium product, our teams explored opportunities to innovate and compete with existing technologies. Our objective was to outperform in key design areas: weight, optics, audio design, sensor layout and tracking coordinate system, form-fit-function, adjustability, safety, and robustness.
Human studies drove primary architectural concepts and industrial design for the head-mounted display (HMD) to deliver:
> Optimal contouring to ensure fit
> Lightweight HMD to ensure comfort
> Adjustability for different interpupillary distances
> Eye relief adjustability to accommodate user eyewear
> Headstrap and off-ear audio adjustability
> Improved tracking sensor performance for superior VR UX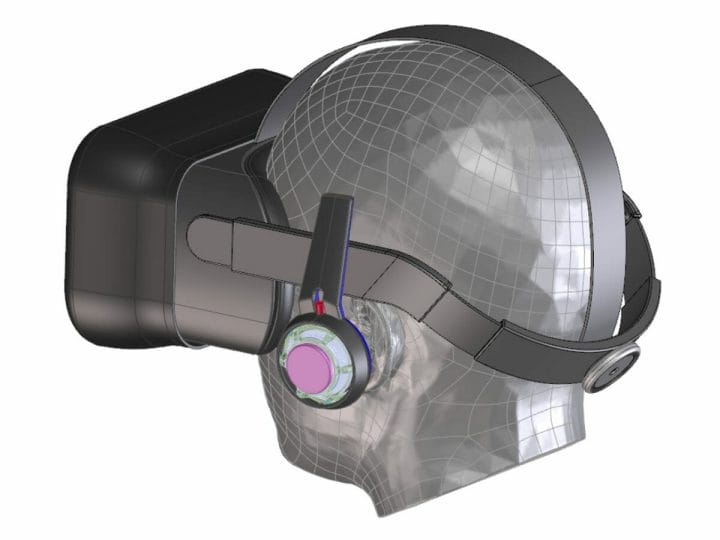 (Figure of early drawings of the HMD, audio assembly, and adjustable headstrap)
(Figures of early tracking sensor simulations)
AC is Your Premium Product Development Partner
Defining System Architecture & Prototype Testing
As the architecture took shape, our Product Development MEs worked with Valve, ID, and suppliers to:
> Optimize material selection and molding techninques
> Develop subsystem prototypes to define and evaluate system architecture
> Establish technical requirements and architecture specifications
> Complete EV/DV/PV with functional prototypes for all major builds
> Ensure Design for Manufacturability (DFM) for assemblies and subsystems
With EVT, DVT, and PVT complete, our Hardware Testing MEs were able to evaluate and refine the final design.
(Figures of early prototype designs)
Manufacturing & Logistics
As the beta prototype for the Index was taking shape, we completed a manufacturing roadmap to ensure the accuracy, quality, and efficiency of all assemblies, including the complex subassemblies of electronics, sensors, FPCs, cameras, displays, optics, molded parts, etc.
Working with Valve's contract manufacturer (CM) in China, we also worked directly with their production team. Our onsite ME interfaced directly with the CM and their assembly teams, as well as their regional suppliers. Our sustaining support ensured ongoing quality, facilitiated trial runs with component changes or improvements, and supported the entire product line.
Valve Index: A Pinnacle of VR UX
The HMD incorporated a superior balance of comfort, fit, and adjustability combined with the high technology performance that delivered high resolution optics, a wide field of view, and premium VR UX.
As recent as 2022, three years after the initial product launch, the Valve Index VR is still considered to be the pinnacle choice in VR technology.
(Image Source: Valve 2019)
The Future of AR/VR is Now
When the Valve Index VR system launched in 2019, we could see that they had planted their flag in the VR industry. VR headset use has grown year over year, with the number of monthly-connected headsets on Steam passing 3 million last year.
The future is happening now with VR/AR and gaming tech. AC's at our best solving complex product development and manufacturing challenges. We can help you lead with your technology and innovation in this dynamic market.
> Could your team benefit from onsite IET engineering resources? Or offsite product development leadership? Perhaps a hybrid approach, like Valve?
> Do you have a manual process in need of transformation?
> Are you looking to reduce labor and assembly time?
> Does your assembly require validation for greater quality assurance?
Speak with an Engineer Today